Gray Cook, Brett Jones & Mark Cheng, 2-DVD set plus manual
Plenty of people teach the Turkish getup, but lately many of the techniques originate from the work of Gray Cook, Brett Jones and Mark Cheng in their two-dvd and booklet set, Kettlebells from the Ground Up.
Two examples of Kalos Sthenos spinoff: I spent some time last summer with Dan John, who teaches only the bottom part of their method, which we filmed as part of his kettlebell form dvd. And recent I got another glimpse of the getup teaching from Charlie Weingroff in a workshop that he presented at Stanford and that will be part of his forthcoming DVD set.
I've been curious to discover the differences between teaching styles, and especially to learn it from the guys who spent the time to break down the getup so carefully. You'll have to wait a few weeks to get the personal impact of my Kettlebells from the Ground Up dvd review, because there are plenty of layers that need private, attentive practice, but I still have a pretty good idea what we'll find.
This dvd and booklet set is directed more toward the general exercise public than their other projects that target the fitness and medical professionals, but it's still an advanced look at how we move. Using the Turkish getup with a kettlebell, we're re-learning how to move from the ground up, fostering good posture, body mechanics and symmetry, left side to right, and front to back. They teach this as a coordinated effort from a foundation of alignment and movement mapping, and watching them move through the positions, you can tell their practice has paid off beautifully.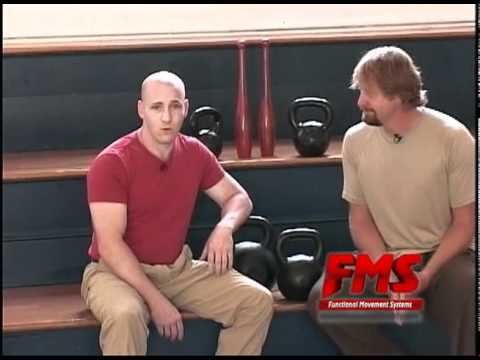 Gray does a short commentary on primal patterns, those movements we have from birth as part of our central nervous system. These patterns are well represented in every getup, moving us through rolling patterns, shoulder mobility, the active straight-leg raise, the ability to sit up, lunge and stand up. And as we load the getup by adding the off-center weight of the kettlebell, we're using weight to teach us where our patterns are lacking. This is the most important lesson of the dvd, and it's part I suspect very few people will pick up on their own.
At each of the seven steps, they've designed feedback to point out the weak links. Within the getup, using arm circles, neck rolls, leg raises and long stability holds, we can discover kinks in the flow, and can work to smooth out the bumps. This is mobility, flexibility, stability, strength and breathing practice—working flexion, extension and rotations in all planes of human motion… all in one exercise.
You can work the getup without knowing any of this, and if you're attentive and you work toward perfecting your form, you don't need the dvd to be successful. But if you're not one of those who's tuned in to your movement skills, or particularly if you're a trainer who works with others and will benefit from the regression tips, this will be a good investment.
Most of the TGU techniques now taught throughout the industry came from their study of the getup for this presentation. Whether this is worth it to you personally, I'd say that depends on whether you plan to actually use the getup—buying, watching, but not doing… well, you know where that goes.
These are brilliant guys who make it easy for the rest of us to soak up their creative thinking. I'm a fan for sure.
You can order the set, $79 for the two dvds plus 36-page manual, here.
Their newest project, Kettlebells from the Center, is reviewed here.